An urban oasis overlooking South Huntsville
Blevins Gap Nature Preserve is a 1086-acre natural oasis in South Huntsville minutes from residential and commercial hot spots. The preserve is divided into two sections with trails to the north and south of Cecil Ashburn Drive. The main Blevins Gap Trailhead provides access to around 8 miles of woodland hiking trails on the 727 acre portion south of Cecil Ashburn and features Huntsville's best spot to enjoy spectacular valley views. Primary access for the 267 acres north of Cecil Ashburn is Fanning Trailhead (located behind Southeast Church of the Nazarene). This portion of the preserve features a rocky incline with wet-weather waterfalls and approximately 4.5 miles of trails. Trails are free and open dawn to dusk daily.
Pollinator Garden in Development: A Pollinator Garden is under construction at Blevins Gap Trailhead on Cecil Ashburn. Thanks to support from The Bakken Family, the large grassy area adjacent to the trailhead overlook will be transformed into a native wildflower garden with the goal of providing food and habitat for pollinators (birds, butterflies, bees, and other insects). This space will also be used to engage the community through a variety of education programs, sharing the importance of fostering a healthy pollinator population. As we develop the garden, the Overlook will remain open but please use caution and stay away from heavy equipment.
Upcoming Events at Blevins Gap Nature Preserve
Trails
Please respect our trailhead neighbors and do not block driveways or leave trash behind. Trails and Trailhead entrances open dawn to dusk.
Blevins Gap North
Blevins Gap Trailhead
This trailhead entrance has an automatic gate that will close at sunset and reopen at sunrise.
Bill and Marion Certain Trail
This is one of our most popular hikes because it has a cool view at the end. But like most hikes with a view, you'll have to work for it a little bit. The trail begins from Blevins Gap Trailhead and quickly climbs uphill. This part of the trail is a bit challenging but doesn't last too long (around .5 mi). Once you get to the top, the trail turns and follows along the ridge offering views along either side of the trail with overlook stops along the way. This part of the hike is pretty easy and flat.
Lowery Trail
Short, moderate trail winds through a tall canopy and makes several switchbacks as it climbs 130 feet to connect the Sugar Tree and Smokerise Trails. Benches mark the beginning and end of this trail. Have the Land Trust map app active to keep on this trail as some switchbacks sneak sneak up.
Smokerise Trail
The north end of this trail is directly under the parking area and climbs 330 feet in a 1/2 mile, while the remaining mile is flat. This well marked trail will take you through stunning old growth woods with many natural springs, and washouts along the trail. Large rock formations and potential caves add to the scenery. The trail ends at Valley Bend Drive, where residential trail access is available with no parking.
Sugar Tree Trail
A bench marks the intersection and beginning of this wide, well marked rocky trail. The first quarter mile of this trail is narrow but well marked and popular. You will notice an old car frame and wonder how it got there. Shortly after this car, the trail begins to widen and follow a rocky descent where water should flow in wet seasons. This descent is rocky and requires sure footing as the elevation changes 375 feet to the intersection with the Smokerise Trail. The remaining trail is narrow and flat to a rock shelter and then descends 200 feet to Sugar Tree Place. Residential access with no parking is available at this location.
Varnedoe Trail
Beautiful, flat, peaceful trail that is easy for most of the hike. The southern point has a steep 250 foot climb with switchbacks that require sure footing. Along this trail you will hike through open old growth forest, meadows, large rock formations, and have multiple lookouts across south Huntsville. Towards the north end of this trail is a natural rock shelter.
West Bluff Trail
True to its name, the West Bluff Trail runs along the west side of the ridge and parallel to the Certain Trail. This easy, wider trail is well marked and gently rolling through old growth woods. At the base of a transmission tower is a flat area with spectacular views of the Tennessee River Valley. Stay safe and away from the sharp drop off in this area.
Bailey Cove Trail
Highly recommend this beautiful but steep trail which takes you hiking along a series of wide picturesque waterfalls. This short trail gains 250 feet but the scenery and sounds of flowing water make this trail well worth the effort. Steep sections are broken up by long, flat, well marked stretches as this trail connects the Walsingham and Jones Valley Loop Trails. Please note that this trail weaves through multiple dry watersheds that may be impractical in wet seasons.
Blevins Gap South
Fanning Trailhead
This trailhead is located behind Southeast Church of the Nazarene on Cecil Ashburn Drive. You'll find the trail entrance in the northeast corner of the parking lot behind the church. Parking at this location is not available on Wednesday evenings after 6pm or Sundays before noon and may be closed occasionally for church events.
Chittamwood Trail
This trail is moderately difficult as it connects the Fanning to the Walsingham Trails. Rocks along the trail require sure footing as this trail gains 109 feet in elevation. The trail is steep in areas and requires hikers to pay attention to trail markers.
Fanning Trail
This trail begins at the trailhead and climbs several hundred feet in the first mile. There are multiple benches along the way to help breakup the climb. This trail is difficult as it is narrow with multiple switchbacks through rocky areas, some of which have large steps. The fourth bench is off the main trail but well marked to help you find it on a scenic overlook. There is a lot of undergrowth at the start of the trail which gradually clears as the elevation climbs. Winter views at the top of this trail will allow you to see all of South Huntsville.
Jones Valley Loop Trail
This trail begins directly off of Fanning Trailhead. A short way in you'll reach a bridge that crosses Bailey Cove Branch and provides a perfect spot to stop for a photo or just to enjoy the quiet sounds of nature. It's easy to forget that you're just around the corner from the shopping centers and bustle of Jones Valley. After crossing the bridge, the trail turns uphill and follows alongside the branch. You'll cross again upstream and turn downhill on the other side of the stream.
Stevenson Trail
A moderate, narrow trail that starts very close to the trailhead. This winding trail takes you to new growth woods, with lots of undergrowth, and fascinating rock formations. Pay close attention to trail marker diamonds as the switchbacks on this trail can be easily missed as it climbs 170 feet. This trail has one bench to enjoy the views overlooking the valley in winter.
Walsingham
This is a well-established, flat, open trail. You will see a valley of large rocks and curious openings. In the winter, this trail will offer views across Jones Valley to the west. This trail has a bench where it intersects the Fanning Trail and another along the spur going towards Donegal Dr. in a residential neighborhood. The spur path is not as well marked as the main trail, which connects the Fanning to the Chittamwood and Bailey Cove Trails. Residential access with no parking is available at Walsingham Road SE.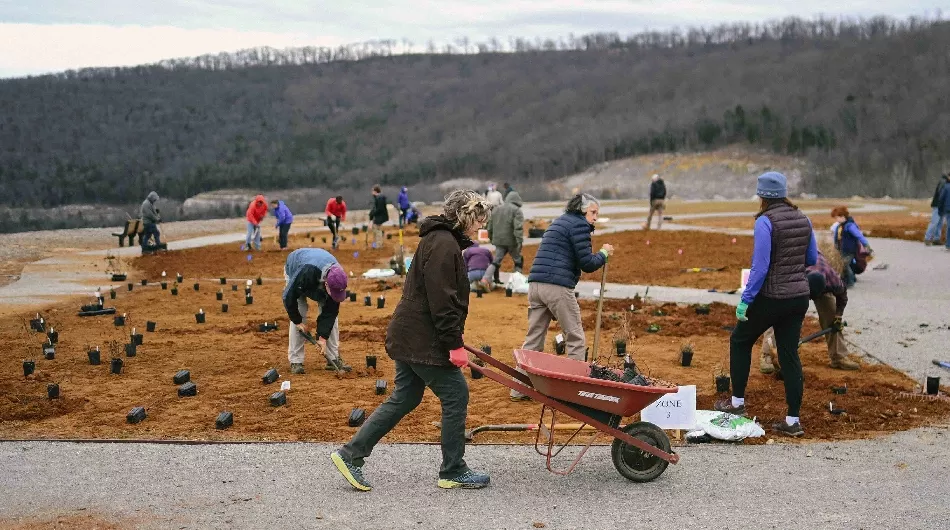 Pollinator Garden
Thanks to support from The Bakken Family, the area adjacent to the trailhead overlook is being transformed into a native wildflower garden with the goal of providing food and habitat for pollinators (birds, butterflies, bees, and other insects). This space will also be used to engage the community through a variety of education programs, sharing the importance of fostering a healthy pollinator population.
Check the Events page to be a part of building this special addition!