Green Mountain Nature Preserve is a 366-acre preserve featuring streams and waterfalls that flow most of the year, ultimately contributing to the Tennessee River. It also holds a prehistoric Native American camp as well as Alum Cave, a rock shelter used during the Middle Woodland period. Visitors can enjoy a variety of interesting natural and historic features while exploring over 5 miles of trails, ranging from easy to difficult.
Green Mountain Nature Preserve Alum Hollow Trailhead
Alum Hollow Trail
The main trail in the Green Mountain network, follows the bluff line. This trail is easily navigable with the exception of a steep downhill climb at the end leading to the final destination – Alum Falls and around the corner Alum Cave – a rock overhang that the Native Americans used for shelter.
East Plateau Trail & West Plateau Trail
Both are primarily flat with gentle hills. They begin and end on Alum Hollow Trail.
Stonefly Trail
Meandering down the mountain, this trail exits Land Trust property and connects to Buzzard Falls Trail, which leads to a nearby subdivision – Oak Bluff on Green Mountain.
Talus Trail
This trail connects directly to Alum Hollow Trail. Talus meaning "a sloping mass of rock fragments" was a very appropriate name for this trail. It is very rocky and continues to the bottom of the hollow. This is a difficult trail and is recommended for experienced hikers.
Talus Connector
Connects the Three Sisters Loop to Talus.
Three Sisters Loop
A short loop in the middle of the preserve, this trail is accessed by the Ranger, Gibson, or Talus Connector Trails. There is a moderate 80 foot elevation change that can be steep in areas. Look for the three large rock formations that give the trail its name.
Ranger Trail
Rated difficult for its rocky terrain and incline, Ranger Trail takes its name from the remnants of a Ranger Truck abandoned alongside it. The trail ventures downhill then loops back uphill to Alum Cave and the waterfall. Please Note: Where Ranger Trail crosses the creek on Green Mountain Nature Preserve, a log bridge was recently removed and a new, safer bridge will soon be installed. In the meantime, please be aware that depending on recent rainfall it may not be safe to cross the creek so please plan your hike accordingly.
Oak Bluff Trail
Connects the Oak Bluff subdivision to the Stonefly trail. This was an existing trail when the Land Trust acquired the property.
Gibson Trail
This easy trail is a flat connector from the Talus Trail to the intersection of the Ranger Trail and Three Sisters Loop. The trail offers a well shaded, level hike that winds through the canopy. Look up slope to see large cascading rock formations and enjoy the view looking down the slope.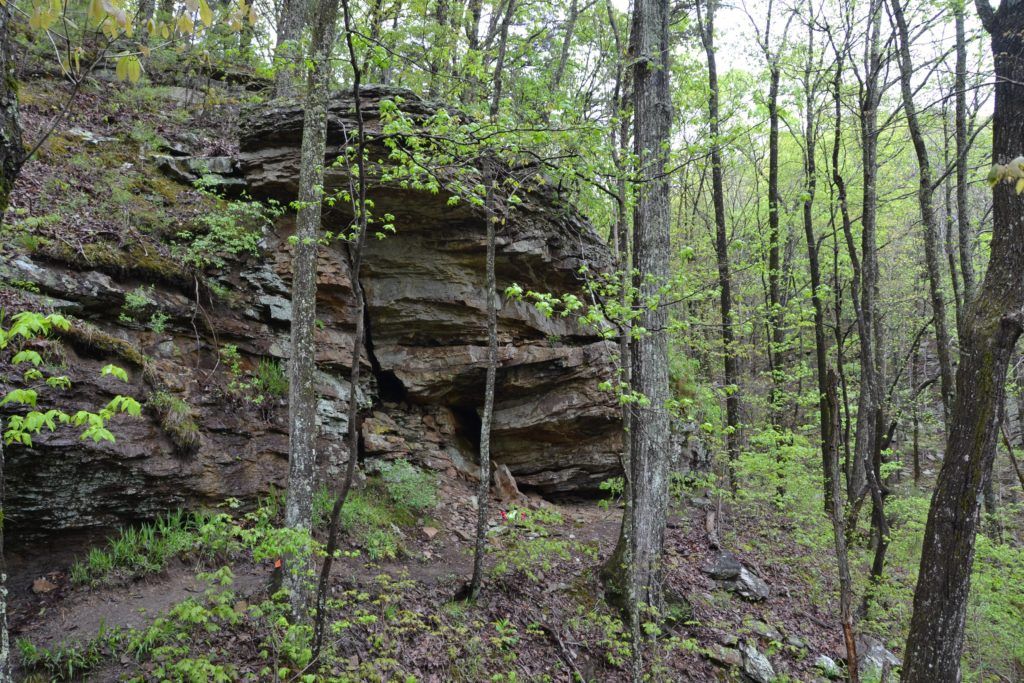 Self-Guided Trail Tours
Check out one of these suggested hikes, including interesting content about the area you'll encounter along the way. These self-guided trail tours are prepared by Land Trust hike leaders and friends.