A Gateway to Huntsville and Outdoor Adventure
Chapman Mountain Nature Preserve is a 472-acre property located just to the east of Huntsville on HWY 72. A little over 4.5 miles of trails are ready to explore. Like all of our public preserves, Chapman Mountain is open dawn to dusk and access is free. These trails are not just for hiking though. Mountain bikers and horseback riders are also welcome and an 18-hole disc golf course adds another way to play outside. Thanks to the generosity of an incredible 470 donors, 92 acres on the west side Chapman Mountain is preserved!
Upcoming Events at Chapman Mountain Nature Preserve
Moonshine Trail
This easy, half mile trail begins from the parking lot and ends at a natural spring area rumored to have once been used for making moonshine (hence the name). Along this trail not far from the pavilion, you'll find a Bird Blind & Habitat where you can stop and quietly observe birds as they visit the area.
Terry Trail
Named for the family who donated the property, this one mile journey takes you to the northern end of the property and back again. Along the way you'll see large hardwoods, mossy rocks, and an old roadway. As you hike, follow the Big Tree Tour on Terry Trail for an educational guide to the tree species found on this property featuring some of the preserves largest trees.
Whole Planet Trail
This .2 mile connector from the Moonshine Trail to Terry trail features lots of red buckeye trees. It's a moderate hike courtesy of our friends at Whole Foods Market, who lended several hands (and lots of volunteer hours) to build many of the trails at Chapman Mountain.
Amphitheater Trail
This quick and easy .2 mile out-and-back trail leads to an area above the Moonshine Spring. The unique geography below the trail resembles a natural amphitheater.
Chasco Trail
A half mile, easy loop is located near the southern border of the property along Hwy 72.
Driskell Trail
Another easy loop but this one is a full mile. It starts at the parking lot and circles Chapman Pines Disc Golf Course.
Bulldog Trail
This 1.5-mile loop connects with Terry Trail on both ends and utilizes Alabama A&M property that adjoins the north end of Chapman Mountain Nature Preserve.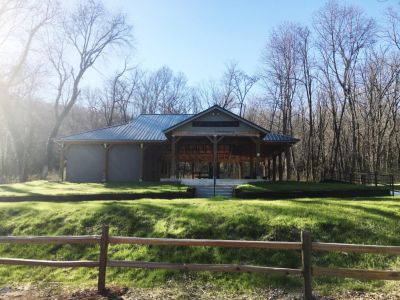 Terry Education Pavilion
This 1,920 square foot, open-air facility offers a space for environmental education programs and community gatherings. Donations from the Terry Family, Toyota Motor Manufacturing Alabama, and Vulcan Materials Company provided funding for pavilion construction. The pavilion offers the perfect spot for a picnic and can also be reserved for small private gatherings.
Bird Blind & Habitat
This space was created with grant funding from Cornell Lab of Ornithology to offer a unique opportunity for bird spotting and education. The blind and water feature area, completed in 2022, has become an incredibly busy stop for an impressive variety of birds during migratory seasons and a favorite for local bird watchers.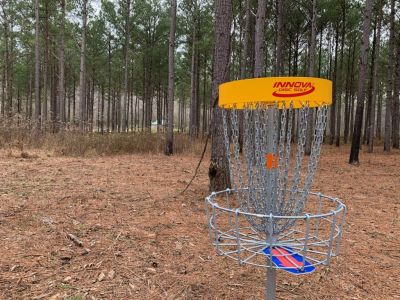 Chapman Pines Disc Golf Course
Chapman Pines Disc Golf Course is an 18-hole course located inside Driskell Trail at Chapman Mountain Nature Preserve.